Only one year after its launch, Plateform Industrial Adétikopé ("PIA"), implemented in Togo by ARISE IIP, is absolutely delighted to announce that it has been "ISO 9001:2015 — ISO 14001:2015 — ISO 45001:2818" certified by the company "FrenchCert UK LTD," for its operations & management. This certification label awarded to PIA, defining the criteria for the quality management system, confirms the values, the expertise, the commitment as well as the large-scale significance of the Special Economic Zone of Adétikopé in Togo.
---
"Investing in PIA means securing your resources and capital with quality services, and guaranteed raw materials on site," said PIA President Jesse Ian Damsky.
The obtaining of these certifications is a token of implementation of good practices on the industrial zone of Adétikopé which will have to, not only confirm the good results achieved by Plateform Industrial Adétikopé (PIA) since it has been launched, but also to improve its performances, in order to optimize the development of the industrial & economic sector in Togo.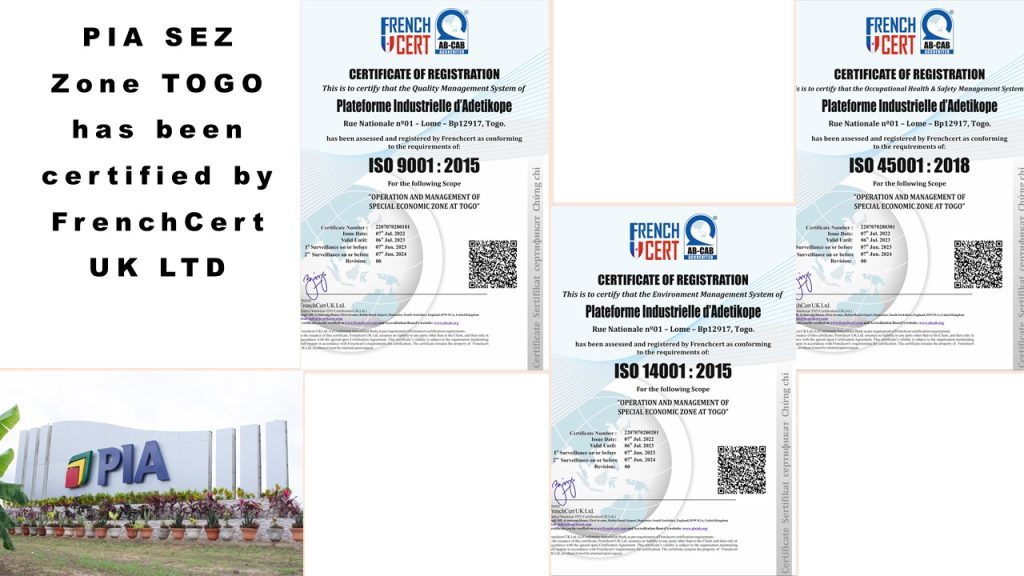 Plateform Industrial Adétikopé (PIA) gratefully acknowledges all its extremely dedicated team, all its partners, and all its direct and indirect stakeholders.
Arise IIP is highly involved in the industrial development of the continent without ignoring the quality approach in its operations. ARISE IIP implements in all its special economic zones, the best managerial strategies in terms of interpersonal relations; monitoring of operations; guarantees of products & services that enable it to boost its managerial and socio-environmental impact.
ABOUT PIA
Plateform Industrial Adétikopé (PIA) is the achievement of a public-private partnership between the Republic of Togo and Arise IIP. Its total investment amounts to XOF130 billion. It started its activities in January 2021, and was inaugurated on June 6, 2021 (Phase 1).
ABOUT ARISE IIP
Arise Integrated Industrial Platforms (IIP) is a pan-African promoter and operator of industrial parks, strongly committed to making Africa thrive, through the development of its industrial sector and the creation of sustainable employment. ARISE IIP is a joint venture between Africa Finance Corporation (AFC) and Africa Transformation and Industrialization Fund (ATIF). It specializes in integrated industrial zones and its portfolio currently includes GSEZ, GDIZ, PIA and SAG.
MEDIA CONTACT
Email: edwige.dabontin@arisenet.com / info.piatogo@arisenet.com
Tel: (+228) 22 53 01 70